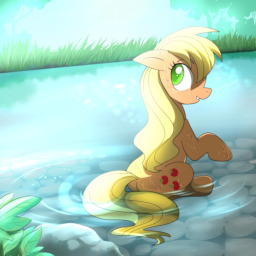 Her eyes...they're like meadows.
Her hair is so messy and beautiful.
Her freckles are so adorable.
EW! WHAT IS WRONG WITH ME?!?
CandleFlicker, a unicorn-stallion, is the star student of Princess Luna. He has powerful magic, and the ability to absorb knowledge like a sponge. He is an expert at controlling fire...he even has his own pet Phoenix. The only thing CandleFlicker CAN'T do is make friends. Or socialize very well.
Princess Luna soon begins to notice that he turns down every invite, every event, just so he can study. Alarmed, she asks Princess Twilight Sparkle for advice, and the plan they come up with is genius. Princess Luna sends CandleFlicker to Ponyville, just like Princess Celestia did with Twilight.
When CandleFlicker gets there, a certain pink pony throws him a surprise party, so he is forced to socialize with EVERYPONY in town. He's introduced to the entire gang...Pinkie Pie, Rarity, RainbowDash, Fluttershy...even TWILIGHT, who's come down for the occasion. He meets tons of other ponies...so many that he can't keep track.
But when Pinkie Pie introduces CandleFlicker to a certain freckle-faced pony, his entire life changes.
Chapters (1)