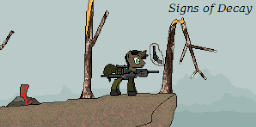 The world now stands still; its surface scarred with the remnants of the Great Destruction, Judgment Day, the Apocalypse.
It has been 200 years after the world was destroyed by a holocaustic fire that rained from the sky, turning the land into nothing more than an intolerable, cracked, and inhospitable wasteland.
The sky raged…
The oceans roared…
The land cracked…
Billions meet their end, some slow and agonizing. Others vaporized, while some, against all odds.
…Survived…
Some went insane, others mutated into horrid and twisted forms, and others kept trying to rebuild society, while others seek to destroy society. It is a hostile land, with little signs of mercy shown to anypony but the test of time and the Apocalypse will only strengthen the resolve and the will to survive of those who still hang on to magic of friendship. This is where our story begins.
We follow a young stallion, seasoned by the horrors of the wastes to find his own path with his faithful friend by his side. They will be faced by all those horrors and more in this epic story of struggle, lost, friendship, and adversity. For in this wasteland everyday is a horror within itself…
Chapters (6)