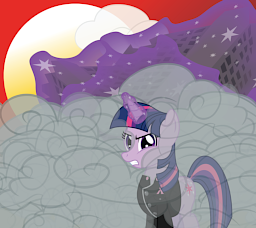 WARNING:Rewrite in progress!
As a last vindictive act Discord sends one of the Mane Six into the Multi-verse. The one to suffer this fate is Twilight. She somehow suvives the experience but comes out a filly with very little in terms of memory. Her situation is made much more better by being found by a society and a Human willing to take her in. However this is not so much a story of her life in her new home as a story of how she comes to terms with her old one.
This is the Story of Erika Gefallen as she struggles with the life and memories of Twilight Sparkle...
(Thanks is due to EvilBob for the awesome picture!)
Chapters (6)