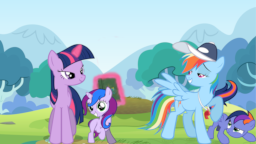 This story is a sequel to TiM: The Truth in Meanings
---
Story number two of the Twilight is Magic series. See author notes in first chapter for link to read order.
Note: this is largely a mindless fluff piece, if your expecting something deeper just move on.
This takes place six years after the events of TiM: The Truth in Meanings. It is a one-shot story detailing one day in Rainbow Dash and Twilight Sparkle's new life of being parents.
This picture was my inspiration for the kids, change three things, Twilight is an alicorn, the unicorn is a colt with a rainbow mane, and Rainbow's wings are gold
Chapters (1)