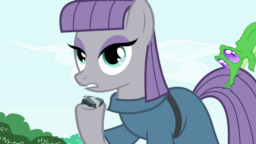 I'm sure you've noticed how Maud did not appear in Pinkie's flashback to getting her cutie mark. Well, there's a good reason for that. She didn't exist at the time. But I shouldn't be telling you about how this all could be; you should ask her yourself.
---
Rated teen for one instance of equine-themed profanity, I suppose. I really give that teen rating pretty lightly, don't I.
---
Written for the EqD WTG #012. Yes, I haven't stopped doing those; I just took a break. Comments are, as always, strongly encouraged. Please, tell me all about my flaws; I want to know.
---
For reference, not only do I not know if you will like this story, I don't even know what I think of it.
Chapters (1)