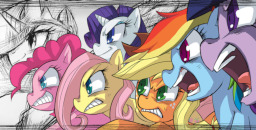 Source
The Elements of Harmony are known to many as the most powerful form of magic known to Equestria. Together, their combined might has cleansed deities as powerful as Nightmare Moon of the evil that plagued her, and has imprisoned forces as insidious as Discord, the embodiment of Chaos itself.
So when news of six mysterious strangers, evidently not of this world, arrives in a letter from the Princess, with rumors abound that they are searching for the Bearers of the Elements, Twilight Sparkle is rather concerned, and more than a little suspicious, of their intentions for the Elements of Harmony, fearing that they might be plotting to either destroy them, or somehow steal its power for some unknown, nefarious purpose...
Except that they're not plotting the theft, or destruction, of the Elements.
They're plotting a succession - a succession of power UNTO the Bearers of the Elements. Powers the likes of which ponykind has never witnessed - and power which may upset the balance of magic in Equestria forever...
Book One of Three of the Codex: Equestria, and the first part of an epic trilogy that will shake the very foundations of Equestria as we know it.
Chapters (11)