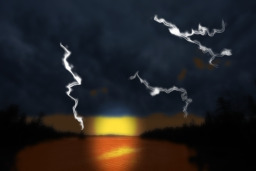 Fluttershy, the timid bearer of the Element of Kindness, is soft spoken, soft hearted, and... well.... Soft.
She's easily frightened, terribly shy, and prone to hiding at the slightest provocation, yet, she lives only yards from a terrifying forest which is home to some of the most dangerous creatures in Equestria.
Her friends don't understand it; they can't reconcile the confusing disparity between her actions and her choice to literally live on the knife's edge of the wild, unforgiving, primal forest.
How can she not only live there, but thrive?
There's a storm coming, and if you're very quiet, you might just find out.
Chapters (1)