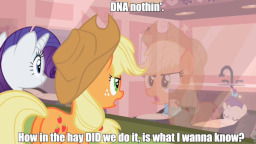 Rarity and Applejack never thought that they would ever pursue a romantic relationship together - they just seemed too different. Funny how they managed to click and last for this long.
Now happily married and expecting their first child, one night - Applejack catches her wife talking to their unborn filly. Somehow, both of their emotions are exposed and they might just learn that sometimes, going with the flow is easier than worrying.
---
This is for twilight-the-pony, 'cause he's cool and really likes my family drabbles and has been too nice for his own good. Also, feel free to check out the fanfic reading!
Chapters (1)