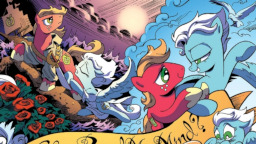 He was never one for adventure. No, he held down the fort at home when Applejack was gone.
He was never one for fun. No, he had to maintain the order when Applebloom was around.
But now he's on his own. No sister to help. No wisdom from age. Just him delivering a pile of pies. Not so hard right? The average pony would no doubt see it as easy labor for the strong horse. But, his little trip quickly turns sour. Will he make the delivery on time? Or will he have something far worse to deal with?
Chapters (1)