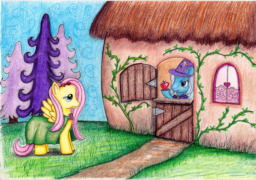 Source
Once upon a time, in the magical land of Equestria, there lived a beautiful pony named Trixie. But the evil Queen Fluttershy was envious of her beauty...
Yes, it's Snow White with ponies, but probably not in the roles you'd expect. Because where's the fun in going with the obvious casting choices?
Cover art by the talented Megandresback, used with permission.
Rated Teen for the occasional mildly violent imagery. Just to be on the safe side.
Chapters (1)