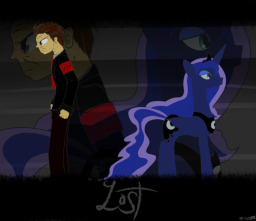 Christopher Razka is the CEO and Chairman of CHECKMATE Arms, the largest weapons manufacturer in the world. However, things have not been going well for the company or Razka lately. After a long week spent at board meetings and managing his company, Razka finally has time to enjoy the weekend. Or so he thought. He gets woken up early in the morning by a strange pony in his bedroom that has the ability to speak and claims to be some sort of princess. If only Razka was dreaming this.
---
This idea just sort of hit me one day and I decided why not make it into a story.
I'd like to thank Maiah for the amazing cover art!
I'd also like to thank TimeSwirl for proofreading and BLACK M3SA for editing this story!
Chapters (6)