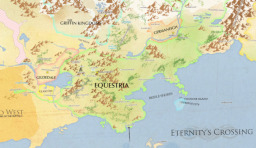 Jason Wright is your average anti-brony, until Twilight summons him to Equestria that is!
Now, lost in a strange new world, Jason must find a way home.
(starts in the third season, the night before the last episode.(when Twilight gets Starswirls journal.))
(rated teen for violence in later chapters)
This story preludes: Rise of the Creators
There will be at least three arcs:
Arc One: Beginnings. Jason Wright tries to find out what to do in order to go home and Jane Wright looks for a way to save her brother (Jason).
Arc Two: The Quest. With a goal in mind and an army to back him, Jason begins his quest. Meanwhile, Jane receives magic training to tear a rift in the Void.
Arc Three: The War. With the quest for the armor over with and the tear in the void, both sides prepare for war. Meanwhile, the Void itself prepares to consume all.
Chapters (30)