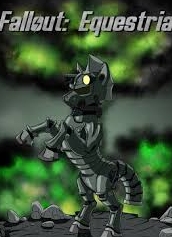 There are quite a lot of reasons to dislike the wasteland.
Especially the dying part.
Yeah, that really can suck.
Truth is, there's nothing good in a world filled with malice, hatred and the only goal is to survive. When Stable 100 is lied to, a pair of ponies are going to learn that the Wasteland hates happiness, and it's determined to suck it out of these two. With the help of friends, they just might be able to do something about it. Or find some popcorn and watch it all happen. Anything's possible.
But it's time to teach the Wasteland it doesn't always get what it wants.
------------------------------------------------------------------
Cookie if anyone notices the 'special thing' about the writing of this story.
Also, this story is under a lot of construction, if you're even halfway decent at grammar/spelling/sentences structure, please come help!
Co-author: http://www.fimfiction.net/user/Sapphire_Talisman
Guest writer: http://www.fimfiction.net/user/Tatroux
Chapters (10)