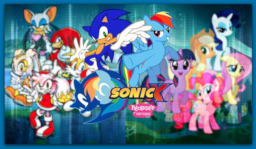 Sonic just got back from Chris's world and was hoping to get some relaxation time. That was before Dr. Eggman got all 7 Chaos Emeralds again.
Sonic rushes to his base to find him with the same contraption from when they all accidentally traveled to another world. He damages the machine again, but gets transported to a land called Equestria.
Now, he must find all 7 Chaos Emeralds and find a way home before he can't go back ever again.
He has just one problem now. He was the only one in the blast radius, other than Dr. Eggman, to be transported. He has to do all of this over again, without his friends.
Chapters (3)