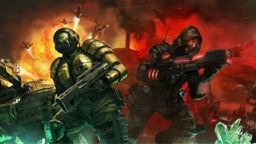 Crossover with C&C3, MLP and a mod called Tiberium Essence
Ever since the crystals appeared on Earth in 1995, NOD and GDI have fought over Tiberium for years, succeeding in two world wars and a third war underway. But when a nation from another realm threatens the very existence of humanity, the two sides must create an unlikely alliance to push back the invaders. For GDI, it's a fight for survival. For NOD, it means protecting the Brotherhood.
Set in an alternative universe, where GDI and Nod do not abandon the technologies they have used in the Second Tiberium War, but instead further developed them.
I do not own C&C nor MLP or the mod, so please don't sue me.
This is also my first story, so go crazy.
Chapters (17)