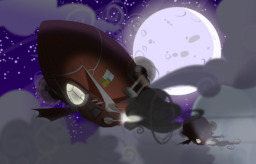 Source
Three years ago, ponies discovered Amaranth, a desert world of ancient, abandoned technology and countless mysteries. It has become the frontier for the unscrupulous, the adventurous and the dispossessed. Salvor airships ply the skies, pirates prey on the weak and idealists seek to unify the disparate.
Three months ago, Scootaloo left Equestria for Amaranth. She hasn't been heard from since.
Now Sweetie Belle searches for her lost friend, to find her, tell her the truth, and bring her home. But as she does so, she stumbles upon a great and terrible secret sought by a number of dangerous and powerful creatures. A secret that explains the shared history of Amaranth and Equestria and could spell the end of both worlds.
---
Primarily an adventure tale with aged-up Scootabelle shipping as a plot element.
Thanks to my pre-readers, Blue_Paladin42, jml123hi and Not A Hat.
Cover art used with the kind permission of Valhalla Studios. 'Cause airships.
Chapters (31)