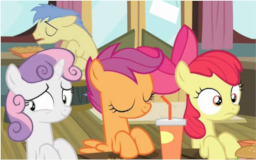 Look up at the picture. You know the one, the cover picture none of you care about. See that stallion in the background there? That's me. You probably didn't see me at first because you were too busy best-ponying over Sweetie Belle, but it's to be expected.
There's a reason I'm so sad, but then again, I guess being forgotten will do that to you. Take chances, they said. Ask out a mare, they said. It'll be a fun time, they said.
Yeah, well, they lied.
Chapters (1)