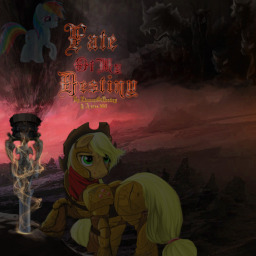 Beyond the borders of Southern Equestria and before the Mild West lie an expanse of untamed land. It is here that several of Equestria's enemies are exiled. Unfortunately, a new leader has decided enough is enough and wants to partake in the prosperity that is Equestria.
The princesses have to decide how to handle this invasion, as the Elements of Harmony are no longer available for use. Can they deal with this threat themselves? Should they seek out allies and plunge Equestria into war?
This is before they realize the threat is greater than a mere invasion and must take steps that involve ancient treasures and convoluted bloodlines stretching back to the dawn of time.
Also, a Dash of Apple.
Locations based on this map by hlissner.
This is Fate Of My Destiny.
[Adventure] [Alternate Universe] [Dark] [Gore]
Chapters (3)