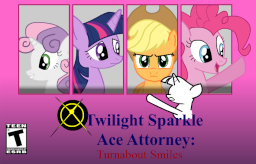 This story is a sequel to Twilight Sparkle, Ace Attorney: The Royal Turnabout
---
In less than a year, there had been three unfortunate victims of murder in Equestria, and Pinkie Pie had a connection with all three. After a failed murder attempt on Apple Bloom, Pinkie was arrested as the prime suspect.
With Pinkie now facing three charges of murder and one charge of attempted murder, only Twilight has what it takes to clear her friend's name, even if that means having going against another one of her best friends.
Will Twilight be able to keep all of her friends safe and happy, or will evil forever wipe the smile off of their faces?
Phoenix Wright: Ace Attorney inspired story.
Chapters (24)