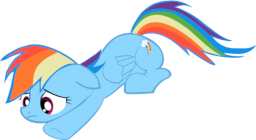 Source
The idea for this darker spinoff of MLD was based on Celestia's comment from the original story: "When I realized where you ended up, I expected the worst. I figured you to be ruined, tainted and tarnished from this world's cruelty."
Through an accident of circumstance Rainbow Dash is transported to another world. However, her first encounter with a human isn't a loving brony, but a cruel sadistic human who sees her only as a chance for a big payday.
Since the subject matter is darker and writing about filly abuse isn't my thing Rainbow gets transported as is with her memories intact. No cute little filly here.
Chapters (6)