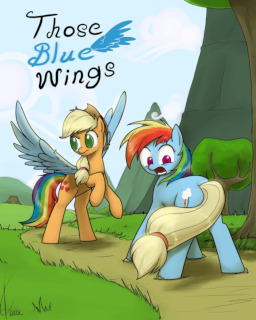 Source
A short trip to Canterlot with Rainbow Dash and Applejack is the perfect opportunity for Twilight to test out her new long-distance Teleportation spell. But a nasty cold dashes the hopes of a quick trip, and makes the spell disappear in smoke: instead of arriving in Canterlot, the three find themselves in the nearby Everfree Forest, and discover that their location is not the only thing that went wrong.
While Rainbow has exchanged her wings and tail for a straw blond tail, Applejack has acquired a rainbow tail as well as a pair of strong, blue wings.
While Twilight attempts to find a spell to return the body parts to their rightful owners, the others must attempt to deal with this situation... and with their changing feelings.
Chapters (16)