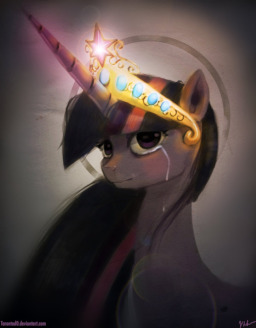 Source
Princess.
In other lands, the title doesn't hold nearly as much power as it does in Equestria.
But then again, being an Equestrian Princess comes with many more responsibilities than you would ever imagine. Other than the expected political responsibilities and the like, a Princess must be kind, loving, and as strict as a mother, for all of Equestria are her foals. She must spread a sense of peace and unity across the land, and protect her citizens with her life.
It is not easy being a Princess in Equestria. Especially since it comes with the burden of immortality.
Of course, most would see that as a blessing.
But not the Princess of Magic. Not the embodiment of Friendship.
Not when all her friends are long gone.
How can she uphold her duty as Princess when she simply doesn't care anymore?
Chapters (1)