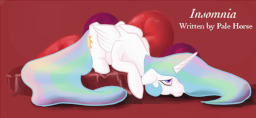 Finding herself unable to sleep, Princess Celestia occupies her mind by penning a letter to Twilight Sparkle. But for a weary princess, the mind has a tendency to wander...
Written for Equestria Daily's Writer's Training Grounds #7.
Dramatic readings available courtesy of Goombasa and PhantomBrony.
Cover art by unknown artist; modified version by Goombasa.
Chapters (1)