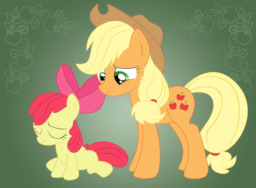 This story is a sequel to What I brought back from Manehattan
---
Apple Bloom was expecting to find out about the niece she never knew existed. What Applejack shares with her, a secret she held for so many years, threatens to shake Apple Bloom's world.
Cast: Apple Bloom
Supporting Cast: Apple Family, Zecora (because I am a masochist), the CMC, Dinky Doo & Berry Pinch, and Cheerilee
Edited by Level Dasher (who, along with my wife, helped tremendously through the brainstorming process)
Prereaders: Manes, Stormy Skies and The Fanfic Crusader.
Chapters (13)