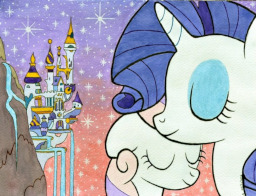 Source
Luna thinks of a novel way to cheer up a distraught Sweetie Belle. Five stars on Equestria Daily!
EDIT ONE: Please also check out Singing to the Moon by the fabulously talented uSea. It's a story which I didn't even know existed until someone in the comments pointed out the similarities (I mean, seriously, that story even has some of the exact same phrasing as my own. It's eerie).
EDIT TWO: Funnily enough, long after this was published, the show itself also did something similar. I guess there's something about this pairing that lends itself to this idea?
Chapters (1)