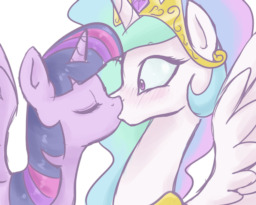 Source
Twilight Sparkle has always loved Celestia—as a friend, and a mentor, and something else as well. And she finally, finally found the courage to admit those feelings.
Celestia turned her down as gently as she could. That's what she thought, anyway.
But the night is still young—and it's a night for being wrong.
[Rated T for suggestive sexual content. This story takes place between the Season 2 and 3 finales. Additionally, I wasn't able to find the artist who did the cover art, if anyone knows please drop me a line so I can credit them.]
Chapters (1)