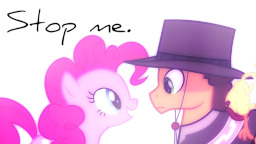 Toward the tail end of the wrap-up for Rainbow Dash's birth-iversary, Pinkie Pie is about ready to dive-bomb into bed and forget all about the day's emotional roller-coaster.
She finds Cheese Sandwich's rubber chicken friend amidst the clean-up chaos, and a tight hug unexpectedly forces Boneless to upchuck a tiny note ... addressed to her. It's not exactly the kind of note she'd expect from him.
For Equestria Daily's Writer's Training Ground.
Chapters (1)