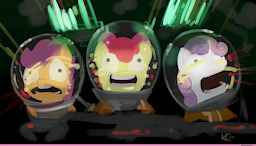 Source
Crossover with Kerbal Space Program, a game available at this site.
A mysterious object crash-lands outside Ponyville. An orbiter returns from space. One causes fear, the other causes surprise. Two species of intelligent creatures from opposite sides of a planet make first contact, and they eventually become friends, starting the first intercontinental alliance in the history of the planet. After all, what's a space program without worldwide support?
All rights to the cover art go to the artist, and the current image is hopefully only temporary. Rights for Kerbal Space Program go to Squad.
Chapters (1)