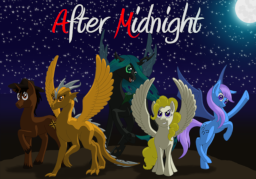 After over a thousand years suffering under the rule of Discord and Nightmare Moon, the defeat of the immortal tyrants was like a dream. A dream that soon became a greater nightmare; for Midnight Star was no savior, and they soon knew greater suffering than ever before.
Even when the Empress's mysterious death renews the dream of restoring Equestria to the paradise it had once been, it doesn't last long. A small dragoness appears with dire news: The world itself is dying.
This is a prequel to Midnight Star. Reading Midnight Star first is not required.
Chapters (14)