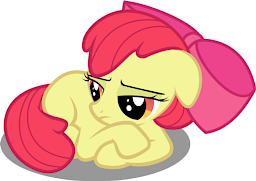 Blank flank they called her.
Worthless they called her.
Apple Bloom has endured the torment of Diamond Tiara and Silver Spoon as long as she can remember, and now it's beginning to affect her. Her mind wanders and she has images of hurting them. She fears these moments. Every time she imagines herself hurting them it sickens her, but they keep coming back. So, under the advice of Cheerilee, Apple Bloom goes to see the school counselor about it, never imagining that such a choice would make the next three days a living hell.
To find out why this was cancelled, as well as to find out the rest of the story, go here.
Edited to make this pre-season 1.
Teen for profanity and some gore.
Cover art here: http://techrainbow.deviantart.com/art/Gloomy-Apple-Bloom-340214157
Chapters (2)