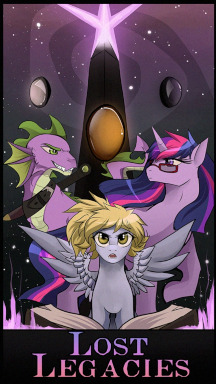 Source
[EQD Featured - 10/04/12] Derpy Hooves loses her job and home to personal failures and finds that her life of passivity and reckless indulgence have left her with nothing but an empty void in her heart. When she cries out for help, she receives two answers—one from a concerned Twilight Sparkle who tries to set her life back on track, and the other from a phantom mare who lashes her spirit to that of Silver Cross, traveling warrior and refugee of a destroyed nation.
The clumsy but well-intentioned optimism of the Elements of Harmony and the unshakable death wish of her new "soulmate" are challenging enough, but Derpy will have to contend with overzealous agents of the crown, romantic entanglements, wielders of impossible magic, an outrageously evil despot, and even the dreaded contents of Spike's Secret Stash before all's said and done. Little does Derpy understand that her pursuit of a way to fill the holes in her heart and mind will only draw her ever closer to the forbidden truths of Equestria's Lost History . . .
Cover Art by the talented McLarenF1LM22
The following is supplemental material. Do not read before finishing Episode 03.
APPENDIX
Character Ages
Ponies keep track of their age by seasons, not years. Birthdays are still celebrated annually, but measuring age in years is an unreasonable choice for creatures with a lifespan of roughly 25-30 - there just isn't enough room for demarcations that any reader could relate to. For clarity, the character's ages as of the time of this story are given in three categories below.
MLPL2 Character Age Chart [GDocs Format]
For reference, please note that MLPL2 begins about three years after the Nightmare Moon incident.
More characters will be added as they receive significant roles in the story.
Deleted Scenes
Chapters (22)