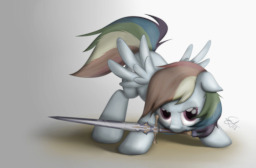 Source
A short fanfic, inspired by a beautiful poem by Rudyard Kipling. It is not a war story, although it does follow the hoofsteps of a certain soldier. It is a story about tolerance and not taking things for granted. It shows that everypony, even the best of the best, is capable of making a mistake.
Written by Dolar84 and translated by myself. Special thanks to Comma-Kazie for proof-reading.
We sincerely hope you enjoy the read.
Chapters (1)