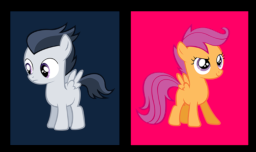 It's hard being a filly. Always underestimated by everyone, that awful absence of a cutie mark, and living in an impossibly tiny world. In case you haven't caught on, it's the definition of booringgggg.
But the worst thing is that I know my wings don't--and won't--ever get me anywhere. Not like Rainbow Dash. Only on my dreams. No one understands me. Except, maybe, one pony, the only other Pegasus pony without a cutie mark in class...
****************************
Everypony is always telling me I should make friends. In my calm, objective opinion, I think that's the dumbest thing I've ever heard. Like I've told everypony, I'm better at school than with ponies.
Unless they're good friends. Or if they're the right kind of friends.
Scootaloo. Why can't I stop looking at her?
Why can't she fly?
Maybe i can help.
Chapters (3)