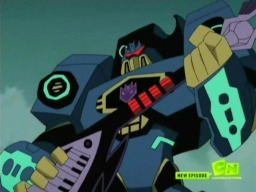 (Takes place after "Human Error" in Transformers Animated)
Soundwave's plan to destroy the techo organic and take over Detroit failed. And the price of defeat was death.
Or so it seemed. For reasons unknown Soundwave's spark found its way into a new world. A world far less technologically advanced. And that land was Equestria.
Some how, some way, fate smiles upon the Decepticon, and he is revived. But now Soundwave has no idea where he is, or what to do.
Perhaps he'll find the answer in the form of a hard rocking DJ pony named Vinyl Scratch. After all she seems to think there's more to the big bot then meets the eye.
Chapters (13)