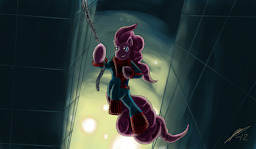 After being gifted with amazing spider-like abilities, Pinkie Pie, now fights crime as the Spectacular Spider-Mare. Defending Manehattan from menaces, like Doctor Octopus, the Kingpin, and more. Meanwhile, she must learn to balance her own life. All while keeping a smile on her face. Which is harder than it looks sometimes.
Spider-Man and all related characters, and location are all owned by Marvel.
Pinkie Pie and all related characters and locations are all owned by Hasbro.
Image courtesy of J-MPN. Please send this artist your support.
Please support the official release.
Chapters (3)