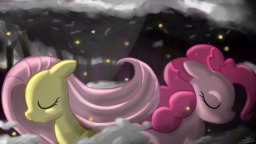 Drama
Human
Slice of Life
---
Pinkie Pie and Fluttershy thought they were going to help banish Discord for a third time with their friends and the two princesses. That was precisely what was happening until they both found themselves suddenly transported to a strange new world under a flashing pink sky.
A man named Doug "TheSlorg" Collins finds two young women who are naked, confused, and smell of fudge in the Australian Outback. He then reluctantly agrees to help them return home. But when "home" turns out to be Ponyville, things become a bit more complicated than he bargained for.
Part of the PonyFall collaboration series.
Visit the PonyFall TV Tropes Page
Temporary cover art by Speccysy