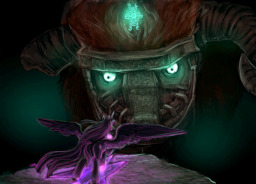 Dead.
It all happened so fast. One minute they were there, and the next she was standing in their ashes.
Lost forever.
It wasn't fair. They'd devoted their entire lives to defending Equestria, and what was their reward? To be cut down in the blink of an eye. Weren't they supposed to be the heroes? Weren't they the good guys, the chosen ones, the saviors of the land? This wasn't the way things were supposed to go!
Alone.
Twilight wouldn't accept it. No, she couldn't accept it. How could fate be so cruel? Why did she have to be the only one left alive? Why did she have to suffer on with such a terrible burden, reliving that terrible moment again and again for all eternity? No, regardless of what anyone said or did, she knew that a terrible mistake had been made, and she would see it fixed...
...no matter what the cost.
MLP/Shadow of the Colossus crossover.
Chapters (3)