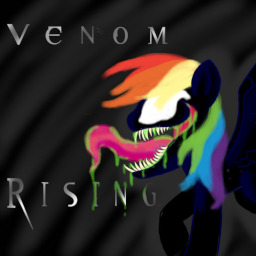 Source
Humiliation and defeat. These are the emotions that Rainbow Dash has felt ever since the new hero Mare-Do-Well showed up. She's better than her at everything, she's stronger, more agile, and somehow she may even be faster than Rainbow Dash herself. At the lowest point in her life Rainbow then visits a place that she never visited much before but she's also not the only one visiting when she comes across a black substance. The creature has promised her power beyond believe, enough to bring down Mare-Do-Well, and also seems to understand her pain. The moment the deal is made Rainbow Dash is gone. All that is left.... is Venom.
Rated teen for mild language usage and blood. Venom and other characters are property of their respective owners.
*Edit 2/5 Hippogriffs have been replaced by horses for the role of the asgaridans and the talk between Dash and Venom as well as her fight with Mare-Do-Well is extended a little.
*Edit 9/20 Coverart made by TP Night. Check him out on Deviantart.
Chapters (14)