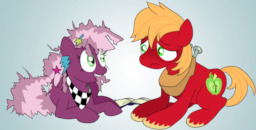 Young Cheerilee is happy to have finally settled down with her family in a nice town like Ponyville, and she's not about to let her nervousness about her first day of school stop her from making new friends. Most of her classmates seem nice, but...
There's one young colt who'll barely say two words to her. And she's determined to find out why.
SPOILERS IN THE COMMENTS!
Chapters (1)