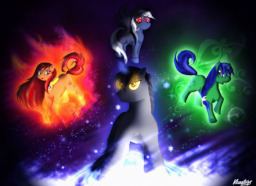 Adventure
Dark
---
[CURRENTLY UNDER RECONSTRUCTION. ANYTHING YOU SEE HERE IS SUBJECT TO CHANGE PRIOR TO RESUBMISSION]
Fueled by dark forces beyond her wildest dreams and armed with centuries of repressed rage, Luna takes her fated stand against Celestia. The ensuing clash shakes the very foundation of Equestria, and divides the diarchy for a thousand years.
Unfortunately, for those left behind, the nightmare doesn't end there.
The kingdom stands weakened, plagued by the fallout of a monarch's banishment, and ripe for exploitation at the whims of mortal and immortal alike. Worse yet, the true consequences of Luna's wayward actions come to light, for they merely herald the coming of an ancient, primordial darkness.
Now deprived of both her oldest ally and her greatest superweapon, Celestia must look to her loyal subjects for strength if they are to stand against the coming darkness and save Equestria from a true eternal night.
(Canon to seasons 1–3 only. Accounting for season 4 would require an overhaul right down to, and including the first chapter.)
TVTropes (needs the wiki magic)