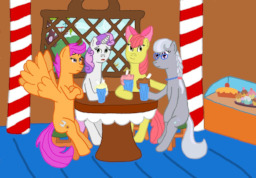 Source
Set in the same universe as My Inspiration, the leader of the Cutie Mark Crusaders is facing financial and romantic problems. Could this contract in Canterlot hold the solution to all of Apple Bloom's problems? Silver Spoon is trying to redeem herself in Apple Bloom's eyes. Could they become friends or even perhaps more?
Thanks to Wolfie 03 for editing this for me. Again, she is being more than helpful.
This will be much longer than my first story, so it won't be complete in a few weeks like last time. This gives more Scootabelle for those who wished for more of it when reading my last story.
As always, drop a like or a favorite if you like it, or if you don't like it, tell me why in the comments below. I hope you like it.
Sex tag added just in case.
EDIT 2-20-2018
CANCELLED SEE RELATED BLOG POST
Chapters (7)