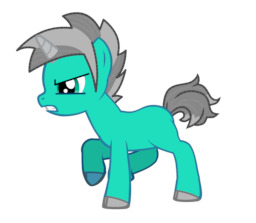 The Cutie Mark Crusaders, while returning to their clubhouse, find a colt crying behind a bush. They instantly befriend him and give him a place to stay, but the colt hides a terrible secret: his true identity. Can the Crusaders protect him from his own kind, or worse, from the Bearers of the Elements? Can the colt who has done nothing wrong find peace among the rest of the ponies, or will he be doomed to suffer simply for being what he truly is?
Pre-alicorn Twilight, although I think AU tag should cover that. Unsure about adventure tag. Temporary cover art using this pony creator and some small amounts of editing with gimp.
Also, in case anyone wants to know, this is my official entry for The Brony Fiction's contest.
A big thanks to NecroLeprechaun, Perteks, SuperPinkBrony12, and Thatsteampunkbrony for putting in feedback that helped keep this story more logical!
Chapters (9)