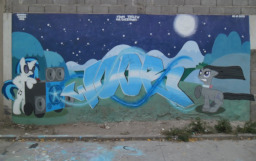 Vinyl Scratch lives to feel free! She feels trapped in society and the bland routine of every day life. She discovers that graffiti art gives her the same sense of freedom and danger that her music does. With a troubled past she longs for this feeling, doing almost anything in her power to grasp it. Even tough the activity is considered illegal she still finds herself in the streets every night after dark, tagging long abandoned buildings, feeling like she's leaving her mark for everypony to see. After deciding to try and tag one of the biggest buildings in Canterlot she gets caught again, this time facing severe punishment.
But when she discovers who the pony that lives in the building she painted is, she concocts a devious plan to get herself out of the trouble shes in.
She's willing to try anything to get back out on the streets!
Authors notes: Light comedy, nothing to cause any ROFLing. This is my first official fic and I really hope you enjoy! I am looking for someone to edit for me and would be very grateful to whoever wants to help! That being said if you have any tips for me and my story please comment or message me with them! I'm not new to writing but i'm new to writing in this setting so I would love a bit of feedback. Now read my story you silly fillies!
Chapters (12)