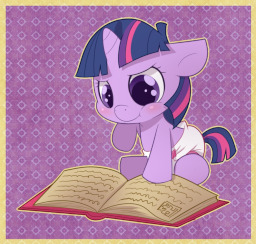 Source
Twilight Sparkle isn't known to put anything less than her all into magic development. It's only natural she tried her best when Rarity asked her to make an anti-wrinkling re-vitalizing de-aging spell to help smooth some stray laugh lines.
Turns out her best is a little too good.
Now it's up to Shining Armor and Cadence to take care of their little sister, with an emphasis on the "little". Assuming her Royal Canterlot Voice temper tantrum doesn't cause the Crystal Empire to shatter first, that is.
Chapters (1)