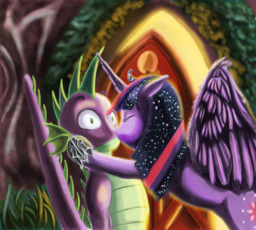 Immortality comes at a very dark and somber price, one that Twilight never realized until it was too late. But though she's faced with a dark truth, she knows for a fact that her best friend, her dragon, her Spike will never leave her side, until his dying breath.
As the two reminisce about the past that brought them together they learn of a truly dark and hidden secret about Equestria's history they wished they never heard.
Written for my author friend, Ekhidna and edited by the amazing author, Beirirangu thank you both for being such awesome people.
Cover Art created by The Dark Knight this man knows how to draw, thank you.
Chapters (1)