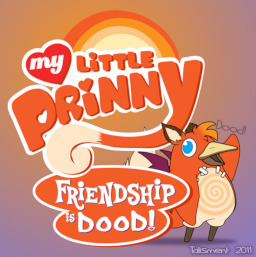 I, Fusion Fool the Third, as well as 4 accomplises, have discovered a way to enter Equestria, dood.
Lots of hard work later, and now we are here to stay so that Lady Sparkle will treat us better then the demons we once served under, dood.
I shall document this historic event with my own flippers, dood!
NEW as of April 11th 2012! Next Episode segments form the Disgaea games have been included to ALL chapters and any future chapters, If I get off my lazy butt.
Safe Warning: this was written for giggles, so the sentence structure may be lacking, dood.
Chapters (16)