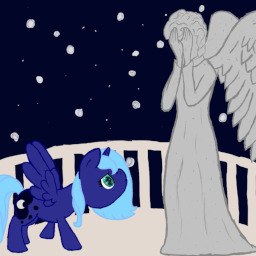 A woman has turned into a weeping angel. How will she cope? Everypony thinks she is an ugly statue! She cannot speak, and cannot move when anyone is watching her. How will she interact with anypony?
This story is about her coping with her changes and making new friends with pony royalty. Watch as her life is turned upside-down in more ways than one.
(This story is set in the past, when Celestia and Luna are kids.)
Thanks to:
sketchboy for writing majority of this wonderful story! Check him out!
DiscordedWhovian for the awesome coverart, you rock!
Chapters (12)