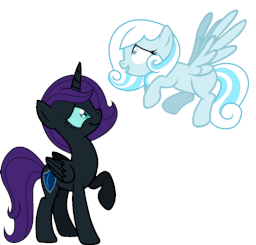 Source
Nyx, feeling lonely and unloved, casts a spell that hurtles her back in time to the Early Equestrian Period. Who will she meet there? What will she do? Will she ever find her place in life?
You can probably figure out the answer from the title.
---
So, I saw like four pictures of these two on derpibooru the other day and they immediately became my OTP for stupid, stupid reasons. But there's no way I can write a story about the two worst OCs the fandom has made without it being really stupid, so expect lots of character assassination and fourth wall breaking and memes and other stuff like that.
Nyx was created by Pen Stroke, who would probably have an aneurysm if he saw this because I'm breaking his rules for using his character. (Spoilers: he didn't.)
Snowdrop belongs to Silly Filly Studios I guess? I dunno, I wasn't paying that much attention.
Cover image by RagingPeppers, edited by me.
Chapters (1)