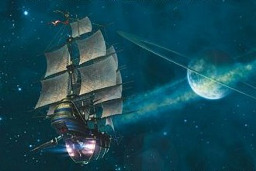 Source
Sergeant Sarin Miles - Modified Soldier G7-H3 - serves her Empire loyally. The Fatae Empire spans hundreds of worlds, carried on ships propelled by sunlight through the ocean of Ether that is Space.
But in the middle of a scouting mission to a strange, previously undiscovered planet, her boat crashes. Now she's stranded alone on a bizarre world, where magic is stronger, the beasts tougher, and the residents almost too friendly to be believed. Can the super soldier survive on Equestria? Will her superiors mount an extraction? Or has Sarin Miles been marooned on the planet of ponies?
It's a story of duty, adventure, wonder, and tested loyalties.
Cover art shamelessly ripped from Disney's Treasure Planet.
Chapters (13)