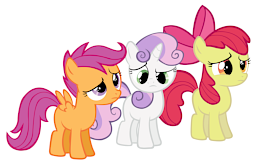 The Cutie Mark Crusaders are more determined than ever to earn their Cutie Marks. And when they meet two colts that promise to help them find their Cutie Marks as daredevils, it seems to good to be true. But when they are forced to perform humiliating tasks, they begin to wonder if these colts have their best interest at heart.
Art by: Smlahyee
Special Thanks goes to Fantasia Archsage for proofreading. I highly recommend checking out his work. He's got some great stuff and he's a talented writer and he has a really creative mind. Please help me to say thank you by following him.
This story was feature on The Hot Muffins group by Pedro Handler. First, I'd like to thank him for featuring the story so quickly after establishing this group. Second, if you haven't checked him out, go check it out. The links are right above. If he is reading this right now, I would like to thank him personally and I'd like to thank you guys for reading and giving your thoughts. Take care.
Chapters (1)